Tweet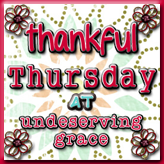 Oooh so many blessings, I am thankful for:
1. My Lord and Savior Jesus Christ
2. Being saved
3. Hubs
4. Little Bit
5. My little house with the big windows
6. Swimming with Little Bit
7. Listening to Little Bit say new words
8. Daily walks to praise God
9. Coffee with my Sister in Christ, Susannah
Those are just a taste. I am so richly blessed. What blesses you this week?